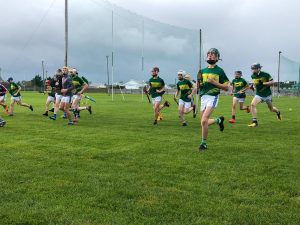 CTI Clonmel: 4-7 Gaelcholáiste Chiarraí: 4:13
On a wet Thursday in October we made the long journey to Rathkeale for our Munster hurling quarter final against Gaelcholáiste Chiarraí. This was our first time reaching this stage of the competition in a number of years and with a number of young, talented hurlers it hopefully won't be our last.
The game started with a down pour of rain followed by a down pour of scores from Gaelcholáiste Chiarraí as they hit 1-4 before we registered our first score. These early scores are what would go on to cost us later in the game. We hit three wides before we hit our first score which was a goal from our youngest player on the panel – Darragh Landers. Some good team play brought Darragh through on goal where his only option was to kick the ball to the net as he was being held back. An exceptional finish from a player who went on to play a big role throughout the match.
After the goal we had our period of possession dominance as Sean Cagney found his scoring range as he hit 3 points (2 frees). His point from play was probably the score of the match as he turned on a six pence and struck the ball on the swivel to put it between the posts. During this period we really dominated possession but failed to capitalise where as Gaelcholáiste Chiarraí were much more clinical and went on to tag on a number of scores before the half time whistle. There was further disappointment on the stroke of half time as CTI had a player sent to the line. This left us trailing at half time on a score line of 3-7 to 1-3.
At the start of the second half, we gave away a couple of silly  frees to put a further deficit between the teams. After this we really rallied and for the last 20 minutes of the game all the qualities that you admire in a player such as bravery, resilience, determination and leadership came to the fore. This was led by David Cagney and Sean Kenny in defence as they powered out with an endless amount of ball to launch attacks on the Gaelcholáiste Chiarraí defence. This filtered up the pitch as Michael O Sullivan got a score as well as a brace from Sean Cagney.
The shackles were off at this stage and getting goals was a must. Our first came from an individual effort from Sean Cagney he followed this up with another point before striking his second goal which he got by chasing a lobbed in ball from a 65. A minute later this was followed up by a goal from Michael O Sullivan and all of a sudden we found ourselves 3 points down with 2 minutes to go.  We found ourselves with a free 20 metres out on the sideline  at this stage and decided to take our chance and put a few bodies in around the goal for it. Our effort was blocked and Gaelcholáiste Chiarraí countered and scored a goal to leave 6 points between the sides at the finish.
This, I am sure was one of those games that the lads will be mulling over for quite a while as there were a number of factors that went against them on the day. On a positive note there were some outstanding performances all over the pitch. In the back line David Cagney ruled the roost and was our most comfortable player on the ball. He was assisted by an energetic Sean Kenny and captain Oisín Power who grew into the game, especially in the second half. Midfield was orchestrated well by Oisín Forristal and he was aided by a future star of the school Bobby Drohan. Up front Sean Cagney was our main scoring threat and once again he contributed handsomely. A tigerish Darragh Landers played a huge role up front as well along with Michael O Sullivan and Jake Maunsell. This now concludes the season for our under 16.5 hurlers, we look forward to seeing these players contribute to the senior and junior teams that are still left in their respected competitions.
Team:
Keenan Curtin, Eoin Freaney, David Cagney, Cian Power, Charlie O Callahan, Oisín Power, Sean Kenny, Oisín Forristal, Sean Cagney(2-6, 3f), Bobby Drohan, Michael O Sullivan (1-1), Darragh Landers (1-0), Harry O Leary, Jake Maunsell, Shane Taylor.
Subs:
Gearld Nugent for Cian Power
Thomas Dunphy for Eoin Freaney
Carl Nulud for Harry O Leary
John Molloy for Jake Maunsell