Enrolment forms can be found by clicking here.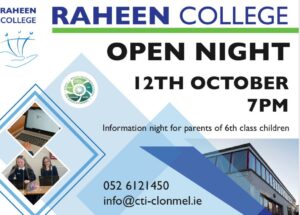 Raheen College 
Check out our school and what we are about in the video below.
Mission Statement
The role of our school is to facilitate the students of Clonmel and its environs in the acquisition of general and specialised education.
We seek:
to encourage the development of the full person through imparting knowledge and skills and through inculcating values;
to develop critical thinking and to promote informed decision-making skills in students;
to bring students to an awareness of their identity in a multi-denominational, multi-racial, multi-cultural context;
to enable the transition to further education;
to encourage the participation of parents in the education of their children;
to respond to the educational needs of the local community.