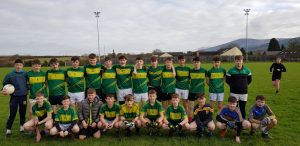 CTI Clonmel 8-15 Coláiste Fionnchua Mitchelstown 1-7
They often say that you learn more in defeat than in victory and last weeks Senior Munster Semi-Final defeat really paid dividends today.  Our junior footballers took to the field with a point to prove and that they certainly did. Mitchelstown got the better start to the game with a couple of attacks but only converted one chance which was from a free, this was the only time they would have the lead in the game as CTI Clonmel took a stranglehold of the game and never let go. CTI Clonmel's opening score came from the boot of one of the youngest players on the field Michael Prendergast. This was followed by a rally of scored from Michael O'Sullivan (2-0) and Oisín Forristal (0-3). During this period our forwards were extremly dominant and had a large number of goal chances, some of which were taken by Michael Prendergast, Jake Maunsell, Sean Cagney and Cian Power. Between the goals we had points scored by Jake Maunsell, Oisín Forristal (0-2), David Cagney, Sean Kenny and Sean Cagney.
With a comprehensive lead at half time we made a number of changes for the second half. The players who came on had a point to prove and showed very well. We opened the scoring with a point from Keenan Kerton – our very own Thomas Ó Sé! This was followed by 1-2 from Luca Dennehy who showed very well when he was moved to full forward. Mitchelstown got into the game a bit more in this half and scored 1-2 during their period of dominance. When CTI got back on top we had Keenan Kerton contribute to the score sheet again with another point from wing back before John Molloy got our last goal of the day. The game finished with a point from the ever energetic Sean Cagney.
There were stellar performances all over the pitch and some excellent team play displayed throughout. This victory was just what the lads needed after the heart wrenching defeat last week.
Team:
John O Connell, Dylan Fahey, Oisín Power, Michael Conellon, Keenan Kerton (0-2), Sean Kenny (0-1), Charlie O Callaghan, David Cagney (0-1), Luca Dennehy (1-2), Oisín Forristal (0-5), Sean Cagney (1-2), Jake Maunsell(1-1), Michael Prendergast (1-1), Michael O Sullivan (2-0), Cian Power (1-0).
Subs:
Gearld Nugent, Eoin Freaney, John Molloy (1-0), Jimmy Stokes, Cian Slevin, Nathan D'Arcy, Dylan Lonergan, Luke Mullins, Odhran O Sullivan, Brandon Moore, Sean Foley